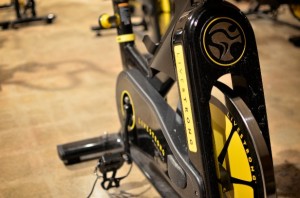 Kinetix has a full aerobics & spinning schedule to meet our members needs. Be sure to download our schedule to keep up to date on our class  schedule.
Click Here To Download Our Class Schedule
Body Jam: One hour cardio workout where you are free to enjoy dance. An addictive fusion of the latest dance moves and hottest new sounds.
Body Pump: Is the original barbell class that strengthens your entire body. It's a 60 minute workout that challenges all of your major muscle groups.
Body Steps: An energizing step workout that makes you feel liberated and alive by using a height adjustment step. Great cardio workout that shapes and tones your entire body.
Body Attack: Sports inspired cardio workout designed for building and strengthening stamina. A high energy interval training class that combines athletic aerobic movements, strength, and stabilization exercises.
Cycle: Indoor cycle workout where you ride to the rhythm of powerful music.
Sparticus: This class incorporates 10 exercises for 60 seconds each, which works every part of your body. The 10 exercises are then repeated 2 more times to challenge your heart & lungs as well as your muscles.
Zumba: A latin dance class that combines intervals of resistance training for a full body workout.
Yoga: Is a form of exercise that uses slow movements and stretching. Great for relieving stress and relaxing.
Jump Rope Movement: Jump rope techniques to house music including the double dutch.