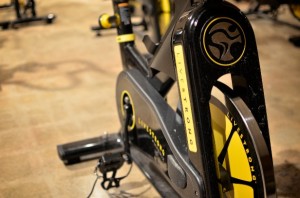 Kinetix has a full aerobics & spinning schedule to meet our members needs. Be sure to download our schedule to keep up to date on our class schedule.
Click on the above red text link to get a printable full 2 page schedule.

BARRE- USING A BALLET BARRE & YOUR OWN BODY WEIGHT, YOU WILL RECEIVE A TARGETED, FULL BODY, RESISTANCE WORKOUT. GET READY TO SWEAT!!
BODYJAM:  A ONE-HOUR7 CARDIO WORKOUT WHERE YOU ARE FREE TO ENJOY DANCE.  AN ADDICTIVE FUSION OF THE LATEST DANCE MOVES AND HOTTEST NEW SOUNDS.
BODYPUMP:   THE ORIGINAL BARBELL CLASS THAT STRENGTHENS YOUR ENTIRE BODY. IT'S A ONE HOUR WORKOUT THAT CHALLENGES ALL OF YOUR MAJOR MUSCLE GROUPS.
BOOTY BANDS– LIFT AND TONE YOUR BACK SIDE WITH RESISTANCE BANDS!
CxWORX: IS ALL ABOUT BUILDING CORE STRENGTH, IMPROVING FUNCTIONAL FITNESS OF THE ABS, MID SECTIONS, AND GLUTES.
CYCLE PARTY: CYCLE WITH SOME HIP HOP FLAVA MOVEMENTS.  IT'S A PARTY ON THE BIKE!
FIT, FUN & FIFTY+: DESIGNED FOR THE 50 AND OLDER FITNESS FANATIC, THIS CLASS COMBINES BASIC WEIGHT TRAINING AND CARDIO THAT WILL INCREASE BONE DENSITY, DECREASE RISK OF OSTEOPOROSIS, INCREASE METABOLIC RATE WHILE DECREASING BODY FAT, INCREASE STRENGTH AND ENDURANCE, AND PREVENT INJURIES. WE INCORPORATE CARDIO, WEIGHTS, COORDINATION AND BALANCE.
HIIT: FEEL AMAZING AFTER THIS CLASS THAT ALTERNATES BETWEEN VERY HIGH INTENSITY INTERVALS AND RECOVERY PERIODS TO BURN FAT AND TORCH CALORIES.
JUMP TO IT: A NEW EXCITING ENDURANCE BUILDING JUMPROPE CLASS INCORPORATING JUMPROPE SKILLS, DRILLS, DOUBLE DUTCH AND STRETCHING.
POUND: IS THE WORLD'S FIRST CARDIO JAM SESSION INSPIRED BY THE INFECTIOUS, ENERGIZING AND SWEAT-DRIPPING FUN OF PLAYING THE DRUMS.
SILVERSNEAKERS® CLASSIC:  HAVE FUN AND MOVE TO THE MUSIC THROUGH A VARIETY OF EXERCISES DESIGNED TO INCREASE MUSCULAR STRENGTH, RANGE OF MOTION, AND ACTIVITIES FOR DAILY LIVING.
SILVERSNEAKERS CIRCUIT– MORE ADVANCED AND MORE CARDIO THAN THE SILVERSNEAKER CLASSIC
SPRINT: 30 MIN CYCLE CLASS(HIIT) HIGH INTENSITY INTERVAL TRAINING  TO ACHIEVE FAST RESULTS ON A BIKE
TOTALFIT: A FULL BODY CROSS TRAINING STYLE WORKOUT FOCUSED ON TRAINING THE BODY MIND AND SPIRIT. FOR ALL LEVELS WHO WANT TO TRAIN TO DEVELOP THEIR OVERALL HEALTH!
YOGAFLOW:  A WORKOUT THAT BUILDS FLEXIBILITY AND STRENGTH. THIS CLASS LEAVES YOU FEELING CENTERED AND CALM. FOR ALL LEVELS