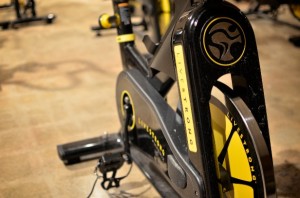 Kinetix has a full aerobics & spinning schedule to meet our members needs. Be sure to download our schedule to keep up to date on our class schedule.
BODYCOMBAT: A HIGH INTENSITY, MARTIAL ARTS INSPIRED CARDIO CLASS THAT TONES & SHAPES THE BODY, INCREASES STRENGTH AND ENDURANCE, AND BUILDS SELF CONFIDENCE.
BODY JAM: A ONE-HOUR CARDIO WORKOUT WHERE YOU ARE FREE TO ENJOY DANCE. AN ADDICTIVE FUSION OF THE LATEST DANCE MOVES AND HOTTEST NEW SOUNDS.
BODY PUMP: THE ORIGINAL BARBELL CLASS THAT STRENGTHENS YOUR ENTIRE BODY. IT'S A ONE HOUR WORKOUT THAT CHALLENGES ALL OF YOUR MAJOR MUSCLE GROUPS.
BODY STEP: AN ENERGIZING WORKOUT USING A HEIGHT ADJUSTMENT STEP TO SHAPE AND TONE YOUR ENTIRE BODY. (STEP PROVIDED)
BODY FLOW: A YOGA, TAI CHI, AND PILATES WORKOUT THAT BUILDS FLEXIBILITY AND STRENGTH. THIS CLASS LEAVES YOU FEELING CENTERED AND CALM.
CYCLE: AN INDOOR CYCLE WORKOUT WHERE YOU RIDE TO THE RHYTHUM OF POWERFUL MUSIC. THIS CLASS IS DESIGNED FOR ALL LEVELS TO BUILD ENDURANCE AND TONE THE BODY.
DANCE FITNESS: COMBINES HIP HOP WITH AEROBIC DANCE FOR A HIGH ENERGY CARDIO CLASS DESIGNED TO BURN CALORIES AND STRENGTHEN KEY MUSCLE GROUPS.
JUMP ROPE CONDITIONING: A JUMP ROPE CLASS DESIGNED FOR ALL LEVELS TO BUILD ENDURANCE, TONE THE BODY AND TEACH COORDINATION WHILE CHALLENGING THE MIND.
SILVERSNEAKERS® CLASSIC: HAVE FUN AND MOVE TO THE MUSIC THROUGH A VARIETY OF EXERCISES DESIGNED TO INCREASE MUSCULAR STRENGTH, RANGE OF MOTION, AND ACTIVITIES FOR DAILY LIVING. HAND-HELD WEIGHTS, ELASTIC TUBING WITH HANDLES, AND A SILVERSNEAKERS BALL ARE OFFERED FOR RESISTANCE. CHAIRS ARE AVAILABLE IF NEEDED FOR SEATED OR STANDING SUPPORT.
SPARTACUS: THIS CLASS INCORPORATES A SERIES OF 10 EXERCISES, PERFORMED FOR 60 SECONDS EACH, WHICH WORKS EVERY PART OF YOUR BODY. THE 10 EXERCISES ARE THEN REPEATED 2 MORE TIMES TO CHALLENGE YOUR HEART & LUNGS AS WELL AS YOUR MUSCLES.
ZUMBA: A LATIN DANCE CLASS THAT COMBINES INTERVALS OF RESISTANCE TRAINING FOR A FULL BODY WORKOUT.